What caused the exploit on MTN's Mobile Money Bank?
As per the news reports published MTN's Mobile Money Bank suffers 22 Billion ₦ Fraud, Drags 18 Banks to court for recovery
The newly licensed Mobile Money Payment Service Bank Limited (MOMO PSB) a banking subsidiary of MTN Communications Limited has in less than a month operation suffered a massive fraud worth over 22 Billion ₦ on its network.
The suspicious transfers were due to the fact that the MoMo PSB suffered system exploitation which led to the said debits. There is no transaction between the MoMo PSB and the recipient account holders that warranted the transfer of the funds to those accounts. The authorities further claimed that a total of 700, 000 transactions were processed with credits made into about 8,000 various accounts in 18 banks.
It is imperative that with the advent of such financial services including mobile money, telcos must monitor their customers' transactions and report any suspicious financial behaviors in real time under AML regulations.
Such solutions not only look at the current transactions, but also analyze a customer's historical information and account details including transfers, deposits, and withdrawals. From there, an analysis of a customer can be provided, which can include risk levels and predict future activity.
Leveraging Technology to Create a Safer Mobile Money Ecosystem
The CSPs who are offering or plan to offer financial services must put in place best-in-class technological measures to give the users confidence in secure transactions. Digital solutions allow all the stakeholders of the financial services ecosystem to ensure real-time monitoring of suspicious activity and quickly respond to risks. These solutions include:
Enhanced Identity Verification
With identity theft and account takeover on the rise, it's increasingly difficult for businesses to trust that someone is who they claim to be. The identity verification step automates the online identity validation process, preventing online identity fraud and simplifying KYC while providing a frictionless experience.
Email Verification
The age of the email, the reputation it holds, and the authenticity also play a high value when assessing an account. Generally during such frauds, it has been observed that the fraudsters create multiple new accounts or account which has been used frauds in past. This can help in weeding out such suspicious account in real time.
Face-Based Biometrics
This step helps to verify whether the ID document truly belongs to the person opening the accounts or making the transaction. Biometrics adds a critical layer of protection against stolen IDs and impersonation attacks ensuring if the person is alive and not a pre-recorded video, or deepfakes. Advanced solutions like Face Trace/ID also enables to check for multiple accounts created by the same user/group with high degree of accuracy.
Adaptive AML/CFT Module
Technology solutions have emerged as crucial to mitigating future money laundering and terrorism financing risk. The real-time AI-based AML screening and monitoring module can help in screening out individuals/entities involved in money laundering, various kinds of financial crimes, terrorism and adverse media.
Building a circle of Trust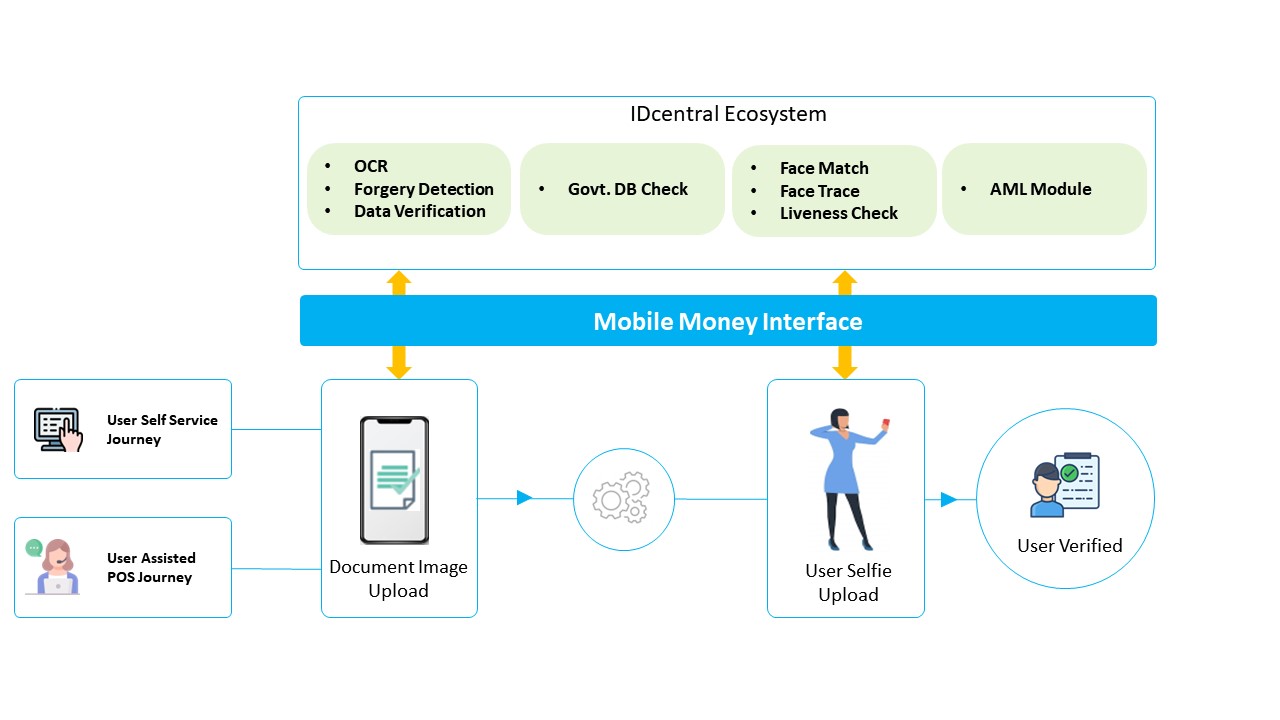 Wrapping Up
The CSPs must deploy the right Identity verification and AML/CTF solution to be able to capitalize on the massive potential of the financial services opportunity. However, this opportunity may become a liability in the absence to do so as it comes with enormous business and compliance risks.
AI-Based onboarding solution providers like IDcentral help to ensure that the industry is not held back by security and regulatory challenges. The plug-and-play feature along with quick API integration means that the solution can be quickly set up to automate the onboarding process. With real-time monitoring and global screening, it makes it easy for CSPs and even financial organizations to ensure security and compliance while they focus on their core competencies and grow their business.
Accelerate onboarding with quicker verification from IDcentral