Verify Aadhaar Card with IDcentral's
Aadhaar Verification API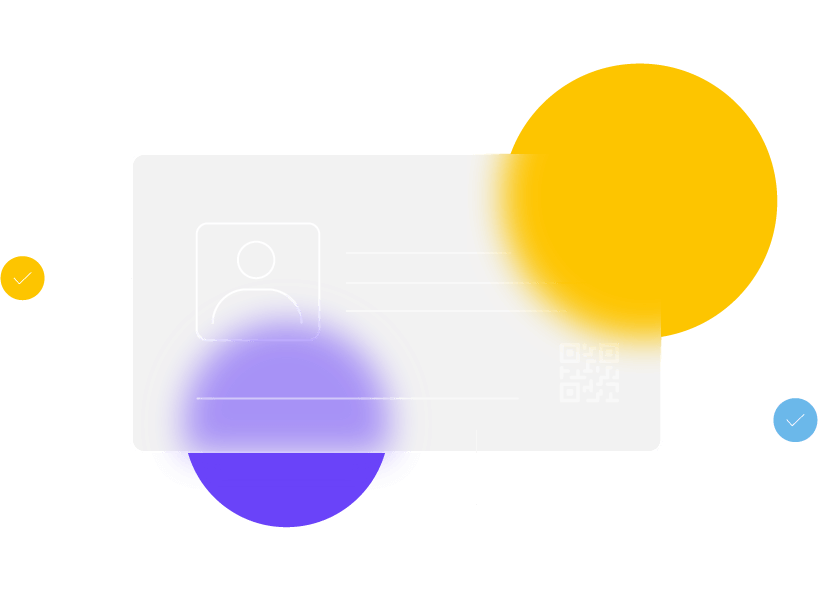 Fail-Proof your Aadhaar Verification Process
IDcentral takes aadhaar number as an input to cross verify the details against government databases with high precision. With over 99% success rate, it's the industry's most reliable aadhaar verification API solution.
How Aadhaar Verification API works
Product Features
Power Aadhaar Onboarding & Verification
More than 70% of aadhaar verification failures are due to slow verification processes. With IDcentral's Proprietary recommendation engine, you can:
Intelligently ping multiple servers for response time to reliably choose the most reliable one to fetch and verify the aadhaar data quickly
Use Aadhaar verification APIs to retrieve and verify a customer's Aadhaar information in real-time
Enhanced customer satisfaction with over 99% success rate
Product Features
Integrate Aadhaar Verification API
More than 33% of aadhaar verification failures are due to UIDAI server problems. With IDcentral's fail-safe Aadhaar verification, you are ensured of:
Reliable OTP-XML onboarding flows that enable aadhaar checks around the clock
Safe and encrypted transfer of aadhaar information from the cloud
Product Features
Aadhaar Verification API Working
IDcentral's single-step aadhaar verification process reduces customer churn and increases the speed of onboarding by:
Requiring customers to only enter the aadhaar number
Autonomously verifying the details in the background within second
Product Features
Secure against Identity Fraud
50% of all document fraud cases involve fake identities & 30% entail identity theft. With IDcentral aadhaar verification, enterprises can:
Validate user's aadhaar card number with government data
Validating aadhaar card helps increase accuracy and reduce Identity fraud
Product Features
Setup Aadhaar Verification in Seconds!
An API-based solution that enables easy integration of the verification solution into an existing onboarding flow, here's how:
The use Restful APIs enhances the ease of integration into apps and websites
Cloud based verification process that uses flexible OTP-XML flow that operates nonstop
Product Features
Aadhaar eKYC & OKYC 
Adding a composite eKYC module enables KYC with the Aadhaar card. This uses Liveness Detection for remote Identity Verification:
KYC Verification for client onboarding using Aadhaar Card for signup
Provides a complete KYC compliance with a solid Identity Verification solution
Simplified and Streamlined eKYC process that is completed in under 10 seconds
Automate Aadhaar Verification with API integration
Aadhaar Plus Capabilities
Fail-Proof Aadhaar Card Verification API
Industry-established fail-proof Aadhaar verification system to establish trust between service providers and customers
Customer-centric Identity Proofing solution
Accelerate the Aadhaar verification process with IDcentral's customer-centric solution to enhance customer onboarding
Enhanced Fraud Detection using AI
Mitigate fraud instances through robust security protocols to streamline the onboarding flow with minimum intervention
Untethered Verification Protocols
Scale your onboarding numbers with consistent & uninterrupted verifications that work for both real-time & existing customers
Adaptable & Quick eKYC Verification
A customer-centric Aadhaar check process ensures it's easy to use & can comfortably be completed within a few seconds
Integrated Biometric Verification capabilities
IDcentral's modular approach ensures integration of composite APIs to add features into your ID check workflow
Aadhaar Card Verification Use cases
Aadhaar verification API can be used to facilitate remote account opening. With aadhaar eKYC, fraud prevention and streamlined remote bank account opening process is much more optimised, making it more convenient and frictionless for customers.
Verify a policyholder's identity during the claims or onboarding process. With eKYC, the API can quickly and securely verify the policyholder's Aadhaar details, reducing the risk of fraud and ensuring that the claims process is accurate.
Use Aadhaar Verification for identity verification and KYC Onboarding by providing using Aadhaar number and biometric information. This can help prevent fraudulent SIM registrations and Telecom fraud, and helps streamline the onboarding process.
Many online service providers, such as e-commerce websites, social media platforms, and online gaming companies, require users to verify their identity to access certain features. Aadhaar verification API can be integrated into these systems to authenticate a user's identity. This can help prevent fraud, and protect sensitive information.
Physical access control systems, such as those used in office buildings and manufacturing facilities, can use the Aadhaar verification API to verify an individual's identity. The API can be used in conjunction with biometric authentication technologies, such as Face Match, to ensure that only authorized personnel are granted access.
Certain services, such as online gambling or alcohol sales, are restricted to individuals over a certain age. The Aadhaar verification API can be used to verify a user's age by checking their date of birth. This can help prevent minors from accessing these services and ensure compliance with relevant laws and regulations.