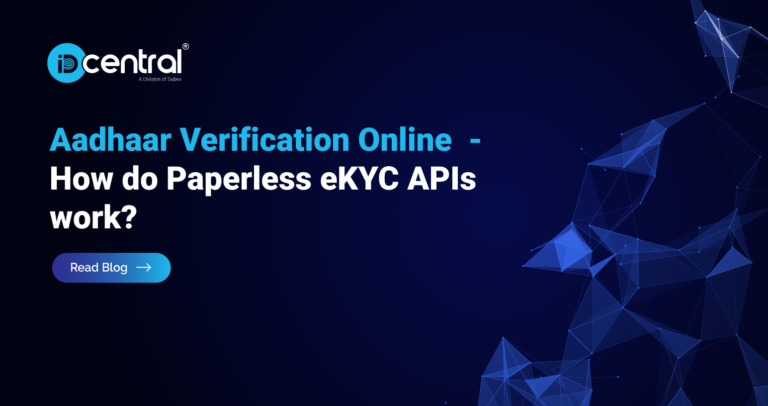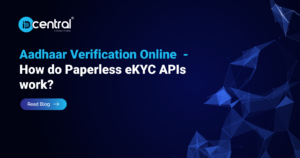 Given that most KYC is registered online and the documents required are also assembled online, verification procedures should be fully digital as well, given the entire digitization of financial instruments and services. The onboarding procedure can now be completed entirely online thanks to changes made by authoritative entities. The eKYC Verification, which speeds processing for a variety of financial services, enables this. Access to digital financial products and services has become simpler thanks to the availability of eKYC online, which includes anything from opening a bank account to investing and even borrowing a loan
What is eKYC?
The digitized equivalent of the "know your customer protocol" is what is typically called "eKYC." When confirming and verifying a customer's data, financial institutions are mandated by the RBI to complete a process known as KYC. The KYC policy has several advantages, and eKYC is no exception. Continue reading to learn more about them, understand the significance of eKYC, and discover how to start the eKYC process.
E-KYC or Electronic Know Your Customer or Electronic Know your Client is essentially how KYC is carried out online or remotely. Consequently, eKYC refers to the process where authorized organizations and agents use Aadhaar authentication to digitally authenticate a customer's identity and address. In other words, it is not necessary to provide physical evidence because eKYC verification is conducted digitally. Biometric verification allows eKYC, making it incredibly secure. Online identity verification relies on E-KYC in a significant way. According to reports, 99% of adults have signed up for digital identities, making eKYC a wise move in the direction of speeding up and ensuring customer onboarding within the financial sector.
Why is eKYC so crucial?
The ekYC feature is important for a number of reasons, but mostly because of the enhanced security it provides. The UIDAI has only authorized particular organizations and agents to offer eKYC verification services due to the crucial necessity of client identity verification. You may, therefore, rest assured that your information won't ever be misused or come into contact with someone who has your best interests in mind. E-KYC also increases the number of measures taken to fight financial crime and identity theft. Because it involves biometric verification, it is one of the safest customer verification provisions now in use.


What documents are required for eKYC verification?
Online Identity Verification uses intelligent AI-based algorithms combined with advanced biometrics that the eKYC services use because it is entirely online. A government database check can also be accessed to give your service provider information such as your name, address, gender, number, date of birth, and other specifics when you permit them to receive your data electronically. As a result, the eKYC and the eKYC verification process flow is paperless, and you no longer need to physically submit documents to prove your identification. You only need to enter your ID details such as your Aadhaar number an eKYC verification portal while getting your KYC completed online. Any further paperwork needed will be noted on the eKYC sign-up form.
Aadhaar eKYC: How to Verify Aadhaar Online?
One of today's most important documents is Aadhaar. However, considering the numerous photocopies and self-attestation you must supply, the manual KYC verification process can be time-consuming.
Aadhaar eKYC verification lessens this inconvenience by applying a newer technology to enable a Digital Identity Verification approach that is simpler and quicker, saving you valuable time while allowing you to access the KYC process remotely.
Here are the steps on how to complete Aadhar eKYC online:
The consumer presents the Aadhar card. Which is then stored online to be cross-matched with the online database.
The potential customer's picture is captured by a biometric scanner through eKYC verification, albeit fingerprints are the more common option. There are currently also mobile OTP-based authentication techniques available.
The value is sent to UIDAI via secure servers after the device has read the biometric.
The input biometric value is compared to the value for that specific Aadhaar number contained in the database.
It would be safe to believe that the potential customer's identity is genuine if the values match.
Following a successful eKYC verification, the UIDAI will provide the bank or agent with all of the customer's credentials, including photos, addresses, dates of birth, etc. This eliminates the need for the customer to carry around several documents. The UIDAI gives the agent or organization the freedom to store a soft copy of all the information on their distant server, giving them access as and when necessary.


What are the benefits of Aadhaar eKYC?
The following benefits are provided by Aadhaar eKYC in addition to being paperless and quick even through the eKYC verification process. Here are a few key benefits of an eKYC:
With the advent of eKYC verification, there are now more options for paperless verification and fraud prevention techniques. The records of the entire population may finally be securely viewed, recorded, and tracked online.
In order to digitally onboard and verify users, eKYC's verification capabilities include government database checks and advanced biometric verification. This technology is projected to sweep the nation and encourage more businesses to adopt the eKYC platform.
Try IDcentral's KYC-KYX Solution with Integrated Government Database Check to Secure Your Business