Identity can be defined as the group of qualities and attributes that make one person unique from others. As a measurable and recordable set of features, identity is also comprehended in terms of the range of those measurable metrics so it can be saved on a system as a digital ID. Like all digital data, ID verification online is also a must to ensure the fraud-free operation and prove the person is who they claim to be.
In this blog, we will answer questions like What is the process of Verifying the Identity of a user, What is Identity Verification, How does the Identity Verification process work, Where Identity Verification is essential, What is the need for Identity Verification and What is the Future of Identity verification. 
What is the process of Verifying the Identity of a user?
There are numerous methods and approaches to carrying out offline and identity verification services. Identity verification process selection majorly depends on the channel and the way the method is used in a particular application.
The traditional face-to-face process includes an individual being present personally and physically at the company's location (store, branch, commercial office, etc.), institution (tax agency, employment service…), or organization. Once available at the premises, they need to hand over their identity document (passport, driver's license, or equivalent) to a verification officer or agent for them to confirm the document (in most cases visually) that the ID picture matches the person who is handling the document, and manually crosscheck details with verified databases.


If the ID and the data stored match each other according to the agent, the identity verification is complete and in most cases the person is allowed to move past security without any other further checks. Background checks may also need to occur for further verification of the ID, which may need the agent to make a copy of the ID, get the individual to fill out a document, and perform all the control actions the agent or the company deem necessary to verify their identity.
Online, the process had to be transformed since the same process of manual identity verification could not be directly adapted. Unlike offline verifications, in the digital world, there are no physical places to go, in turn, we have sites and tools that are integrated to act as identity verification services. With the introduction and continuous advancement of digital verification techniques with the inclusion of AI, online global verification identity checks for users and companies around the world, with even greater legitimacy than the traditional process.
What is Online Identity verification or IDV or ID verification?
Be it parties for a client or customer onboarding or a simple verification of the person's identity before granting access to valuable resources, Identity Verification is a critical part of legitimatizing access to company resources and preventing fraudsters from spoofing their identity to cheat the system to access vulnerable applications. 
But Identity Proofing can be complex, especially with complex IDs and Databases involved in verification. With the advancement of standards in both compliance regulations as well as detection and verification technologies, finding the right set of features and threshold of verification for your personalized onboarding or verification needs has become difficult. On the base level, all Identity verification solutions do the standard procedures to verify Identity and confirm ID documents, the 3 important steps include :
Liveness Detection/Face Authentication:
Detects and recognizes the face of the client that is being onboarded via the app. Used for face matching in the document verification process in the next step. Liveness detection also helps deter fraudsters, bots and spoof sign-ins by checking for biometric patterns and movements to detect the actual presence of the person.
Document Verification:
Photographed ID document is processed by AI Based OCR to read texts, images and pre-programmed codes from the scanned ID. This step also includes face match and cross verification with the picture from the liveness detection as well as recorded government database for the ID validity and authenticity.


KYC & AML:
Additionally, Identity Verification steps also include AML compliance checks to stop clients that are blacklisted for money laundering, terrorist financing etc from signing up.
Over the years, a diverse set of identity verification APIs have been developed. However, it is important to note that not all identity verification services and solutions comply with the standards and qualifications (especially financial sector operations) to guarantee their legitimacy, safety, and trust. The financial sector for instance requires verifications matching identities directly from the Government Database, to properly assess the person's background and viability for the use/access of said resources.
In online banking, the online customer ID verification process (or eKYC) must comply with strict ordinances to ensure their legitimacy and guarantee your company's and your customers' anti-fraud safety.
The eKYC process verifies a person's identity online. This means the verification occurs remotely and digitally. Therefore, the eKYC process guarantees secure and effective customer identity verification.
Video KYC is one of the most secure identity verification services. It uses a solution based on artificial intelligence and machine learning, that covers the eKYC process ensuring complete reliability with the use of technologies like active and passive liveness detection.
What is the process of Identity Verification

?
Identity verification solutions unlike Manual Verification takes only a few seconds to be completed, the steps are usually direct and non-intrusive or privacy-compromising as the traditional verification counterpart. Although steps are added or removed as per Customer Experience and company needs, the primary steps of identity verification are:
The customer logs in to the company, organization, or institution's website, app, or platform.

The customer permits access to his/her device's camera and microphone to verify their identity.

He or she is asked to photograph the ID document on both sides. 

The user is requested to show his/her face and depending on the type of application, is asked to make particular movements of arms or face, or just a passive front facial photograph is captured.

If necessary, a team of qualified agents validates the recorded session.

The applicant's identity has been verified and the face match with the user's ID Document serves as proof that the user is who they say they are. Among these credentials are the user's face biometric analysis in the liveness detection, their ID information, and their personal details such as email address and phone number.

The user is now verified and can start using the company's products and services.
Additionally Document and Face Match with Government ID Database authentication are also identity verification services that are included in a wide range of processes and operations as needed. These steps are the most secure and reliable technique for digitally verifying an identity.


Who must use Identity Verification?
By employing digital identity verification, along with a robust set of controls, organizations can streamline the experience for employees, customers and staff. This technology allows for several potential use cases.
ID Verification helps reduce risk in financial services from common fraud threats in processes like account opening, wire transfer agreements and loan funding by providing higher signer assurance and helps enable compliance with banking regulations such as Know Your Customer (KYC) and Anti-Money Laundering (AML).
Other industries where identity verification is essential to include are:
Telecommunications :
A telecommunications operator onboarding a new customer to an ongoing service agreement, such as a mobile phone contract. Digital Verification allows for a faster subscription origination that abides by regulatory requirements. It also combats SIM swap fraud, reduces operational costs, and supports biometric authentication for faster remote verification.
Travel :
A car dealership or travel business allows remote test drive and purchase experience, Secure taxi bookings and ride-sharing are also good to use cases for ID verification. Build trust between customers & partners by checking the identity of both parties through AI-based identity verification solutions.
Retail Services :
A commercial landlord onboarding real estate clients can authenticate guests during check-in and scale the travel booking business with fool-proof identity verification solutions & instant user onboarding.
Insurance :
An insurer signing up clients for a new insurance policy or processing a new claim. As insurance services go online, customers want to buy insurance products and avail of insurance services online. In the absence of in-person verification, insurers must conduct strict KYC to secure themselves from false claims and fraudulent policyholders. 
Gaming and Online Betting :
The gaming or online betting industry trying to verify player ID and age. Minor protection is essential when it comes to age verification, age-sensitive access areas can use robust identity verification procedures to prevent young people from spoofing their age to bypass Age Verification checks.
What is the need for Identity Verification
?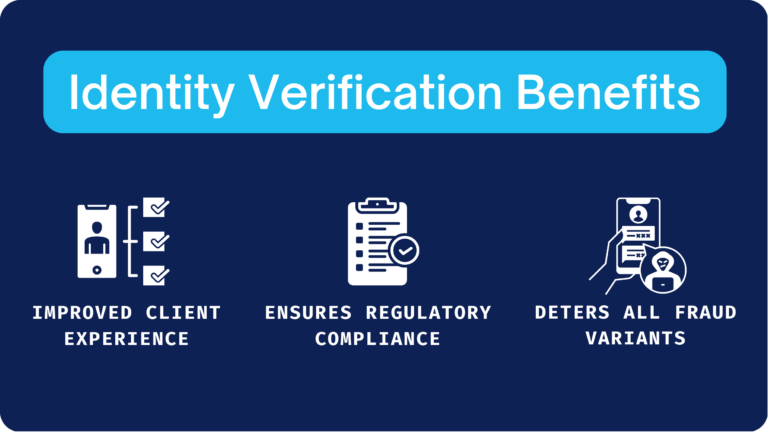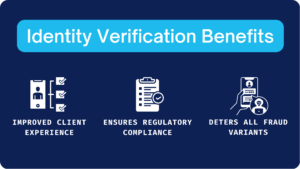 In today's highly regulated digital businesses frictionless, and secure identity verification has become a major feature to retain more customers. The traditional onboarding process for new clients can be time-consuming, error-prone, labor-intensive, and manual processes involving multiple departments within the institution. This can lead to frustrating delays for customers and can put a strain on the business relationship as well as affect trust in the manual verification process.
The inclusion of AI, facial recognition, liveness detection, process automation, and machine learning technologies are enabling the verification technology of today's verification solutions in the global business arena. Integrated identity verification not only helps the customer trust but also the business metrics for all industries employing the verification system in more ways than one. It ensures:
1) Seamless Digital Onboarding Experience
2) To Expand the Customer Base
3) Improved Conversion Rates
4) Assured Regulatory Compliance
What is the Future of Identity Verification 2023?
With rising malicious fraud technology and the increased volume of attacks on all verification applications in 2023, it is constantly getting harder for Identity Verification Solution providers to suppress spoofing attacks. The inclusion of AI and OCR technology advanced the speed and robustness of the solution which greatly increased the scope of verification use cases. Although scarce, liveness detection, video KYC and Face match have also played a major role in particularly confirming identities based on each person's uniqueness and cross-verifying facial data with legitimate databases.
This facial match technology uses advanced algorithms to extract biometric data from a facial image — enriching facial features and saving them into a standardized dataset. Comparing a pair of such datasets can show whether two faces are of the same individual. If one of the images is from a pre-verified source or database such as government IDs and the second image is a real-time image captured from the user during the application, Liveness detection can be used to prove their presence, while Face Match compares the data and verifies the identity.
With Biometric verification being integrated into Identity verification solutions, it is easier than ever to instantly verify customers who have a smartphone with a camera. The future of Identity Verification also comprises verifying an identity document to create a trusted online identity profile. Combining Document Verification and Identity Verification provides an additional layer of trust to determine that an applicant is the same person as in the ID document. Liveness Detection such as active liveness procedures, instructs the applicant to perform simple tasks such as smiling or lifting their left hand and helps to detect spoofing attacks like videos, face masks, or photos of photos.
Conclusion
Facilitating identity verification for your customers and employees properly and thoroughly can help protect your business from fraud. With the ability to legally enforce agreements using assured identity verification processes, some sectors must have a digital verification system in place. Reliable verification processes also allow for a better customer experience and help create more opportunities to grow your business. Digitizing the identification process reduces the risk involved in onboarding, increases trust, and supports legal validity and compliance.
Try our AI-enabled Online Identity Verification API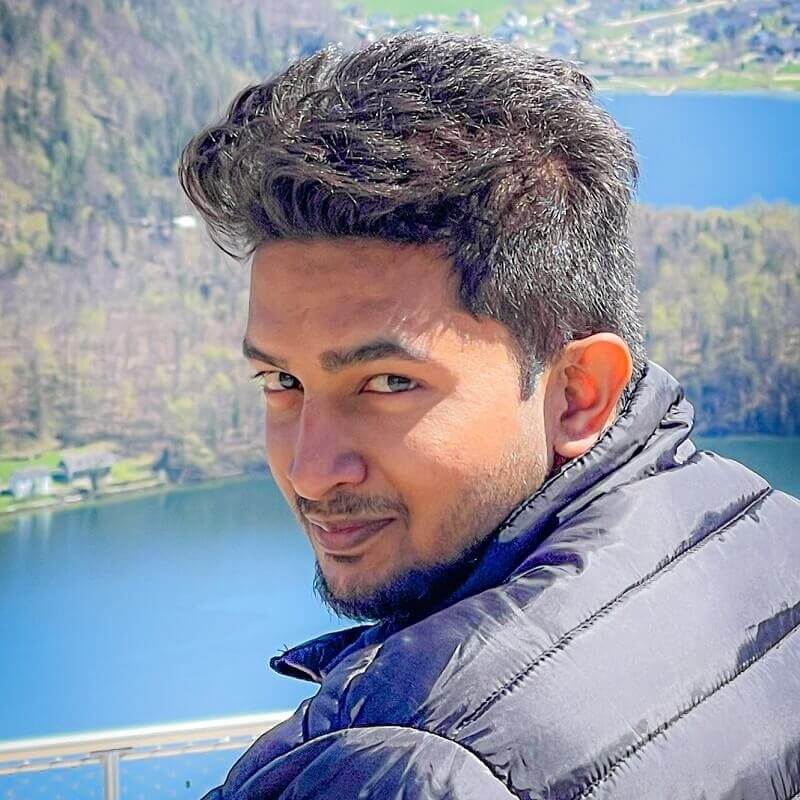 Sumanth Kumar is a Digital Marketing Consultant at IDcentral (A Subex Company). With hands-on experience with all of IDcentral's solutions, he loves to compare and create indispensable digital content.